Position Distance Matrix
Product
Realist computing drive time and distance over road network.
1. Solution FOR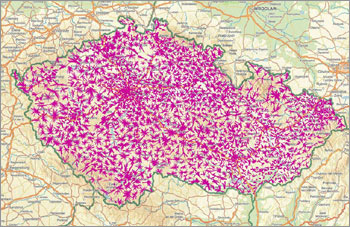 Health insurance companies;
Rescue forces;
Security forces;
Utility companies;
Banks and insurance companies;
Trading companies;
Service companies;
Logistic companies;

2. HOW we can help you?

To carry out mass calculations of response times and travel distances by road.
To determine optimum distances of client and service centers.
To carry out analysis of local availability of health services.
To determine zones of travel distances.
To optimize commercial and service networks.

3. Reference

Health insurance - Ministry of the Interior of CR.
Revírní a bratrská pokladna (health insurance company).
ČEZ Prodej - electric power industry.
Emergency service - Jihomoravský kraj.
Emergency service - Liberecký kraj.
Emergency service - Pardubický kraj.
Emergency service - Plzeňský kraj.
...

4. WHY our solution?

Proved solution - RELIABILITY
Robust calculation algorithms - PROMPTNESS
Dedicated data centers - SUBSTANTIVE CALCULATION CAPACITY
No third party public services used - SAFETY
Premium map and routing data all over Europe - ACCURACY
Calculations based on standard movement by road - REALITY
Wide parameterization possibilities - ADJUSTABILITY
Dedicated software solution - INDEPENDENCE

Contact information

Sales manager: Martin Šimek
Director of optimization solutions


Telephone: +420 734 138 795

Other products
Distance Matrix
Position Distance Matrix is a high performance solution for robust mass calculations with variable setting of input conditions.
A homogenous type of task calculates times and distances of the shortest ways between every two points within a specific group of locations (points).
A centripetal (CTP) type of task calculates distances of the shortest ways from all centers to all service locations.
Algorithms provide both symmetric and asymmetric calculation for every two points with results in A->B as well as B->A directions.
Supports all routing modes. Distance matrix can be calculated based on different types of vehicles (car or truck including e.g. specific restrictions for freight traffic) or routing types (shortest or fastest).
Realistic and proved outputs.
The solution allows to define both content and form of sizeable RAW data post-processing.
Here (Navteq) partner
Position s.r.o. and HERE(former NAVTEQ) from 2005 entered into a strategic partnership in the field of provision of accurate navigation data into Position´s independent solutions by world leading producer of spatial data.